Venture Plastering offers the following services:
Interior
Plastering or skimming walls/ceilings
Plasterboard fitting and plastering
Full ceiling replacement
Plaster and fibrous covings and mouldings
Damp proofing
Exterior
Rendering
Lime Render
Pebbledashing
Spar dashing
Masonry pointing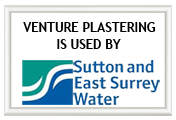 Screeding and Latexing
Laying a base or levelling a floor
Bespoke decorative effects
For example, stepped ceilings or lighting effects
Main services briefly explained:
| | |
| --- | --- |
| | Plastering is the application of a basecoat plaster such as bonding, 'hardwall', browning or sand and cement lime mix used for the first plaster coats when levelling walls or ceilings. The basecoat is then scarified or scratched to give a key before two finishing coats are applied.  Leaving the walls or ceilings smooth and level. |
| | |
| --- | --- |
| | Skimming is a term used for a finish coat applied over an existing plaster finish that has surface damage and is beyond filling repair. PVA sealer is applied before skimming to give the wall a key and to seal loose and porous substrate. Then the finish coat of plaster applied in order to provide a smooth surface for decorating. |
| | |
| --- | --- |
| | Bespoke projects are more in demand these days. Perhaps you want to house an item of an unusual size or shape and require a custom built approach. Maybe you want a very modern unusual shape for you arches, a lighting effect built into your wall or a stepped ceiling (examples of these are in our gallery). Whatever it is you have in mind, we can work with you to plan, build and plaster to your requirements. So if you're thinking of a designer look, but unsure of how to achieve it, discuss it with us as we may have some ideas that would appeal to you! |
Rendering simply put, is really the equivalent of external plastering. Traditionally, render was used to cover poor quality external walls, but is now a highly decorative feature of many homes and buildings.
Examples of render include:

Lime render which is a long established, more traditional method of covering walls, and best used in restorative work of old buildings as many were originally built with this mortar. It is best conservation practice to use the original or most compatible building materials. However, lime render is not only used for this purpose. It is an excellent all-round performer and has many advantages over modern day equivalents. We add lime and an additional waterproofing agent to all of our exterior render finishes due to the added strength and protection it gives to the render.
Pebbledash or spar dash is a decorative coating applied to a wall using a wet mortar with pebbles (or spar) cast onto it. The difference between pebble dash and spar dash is the aggregate material used. Pebbledash obviously uses pebbles, but spar dash uses materials such as gravel substances, shale or chippings varying in size, and available in almost any colour which can blended together to achieve highlights in the wall finish.
| | |
| --- | --- |
| | Masonry Pointing is the material between the brick or stone in a wall or building. Pointing of a brick or stone wall is integral to the structural strength of the building. Once the pointing has broken down and become ineffective, the building can start to suffer from the effects of penetrating damp and in time loose masonry. There is a lot of preparation involved in re-pointing a building which must be done properly in order for the new mortar to be effective. There are many different styles of pointing, but we will be able to match to your existing. |
| | |
| --- | --- |
| | Damp Proofing. A defective damp course will normally affect the two skins of cavity brickwork of your external walls.  You may notice internal plaster becoming wet and if left a mould will form leaving you with unhealthy living conditions.  It can be cured by injecting the walls with a damp proofer, but in order for the manufacturers' guarantees to be valid, the internal plaster from floor level to 1m in height must be removed, then waterproof coats of sand, cement and lime and finish coats have to be applied and feathered into the existing edge of the remaining plaster. |